My Christmas is complete. (Almost). Our Adult Sunday School class has a fun get together every month. For this month, we went to another church (Don't tell anyone, please.) to listen to a Living, Singing Christmas Tree. It was a magical evening for me because we had three of our grandkids along, 18 SS friends, one Chinese student and a ton of beautiful Christmas music. I've looked forward to that concert last night for 12 months. I went last year, too, and vowed to return. It was worth the wait. And I'm going again next year.
If you like Broadway-class productions while singing praises to the Lord, then this is the place for you. Mark your calendar for this time next year. We can go together.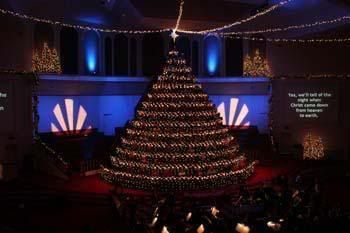 Now I have some questions.
Is it okay to worship in a church of another denomination?
On a Saturday night?
And raise your hands even when no one else does?
Our pastor's sermon today (Sunday) was specifically about worship. It was a good sermon. But I had already worshipped this weekend. In another church. So now I have another question: Is it okay to worship two days in a row?