My First Wife and I are going to Texas in a couple of days to kick off our Annual American Calorie Fest at our youngest daughter's home.
Some people call it Thanksgiving and eat all kinds of delicious American food from noon till midnight. Others call it "the holidays" and eat and drink everything they can their hands on—privately and publicly—and don't stop eating till Mardi Gras ends next spring.
Well, in the public interest and to help you jump-start your cooking ideas for this year, I made these Buckeyes. Also, it's the only way they'll let me in the door when we get to Texas.

Bonus: this is a world-class bonding opportunity for grandparents and grandkids. Make 'em together if you can.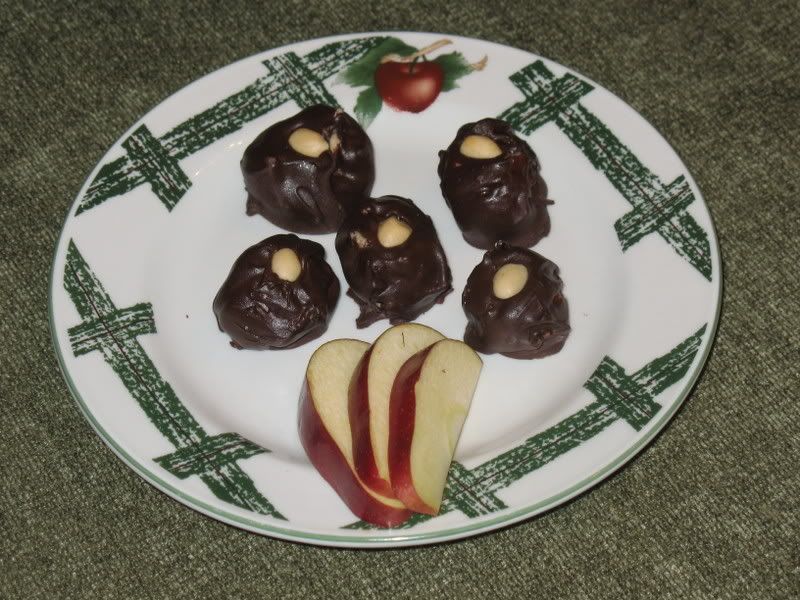 There are Buckeye recipes and pictures all over the Internet. Here's one I've used before.
1 cup creamy peanut butter

1 and 1/2 sticks of butter

1 teaspoon vanilla extract

3 1/2 to 4 cups confectioners sugar (about 1 pound)

1/2 cup fine graham cracker crumbs (Alt: broken rice krispies)

3 cups semisweet chocolate chips

About 60 peanuts, unsalted.
With a large mixer with paddle attachment (or a hand mixer on lowest speed), mix peanut butter, butter and vanilla until smooth. Slowly mix in the confectioners sugar and graham cracker crumbs. Mixture will be dry but will hold together when shaped into balls. Shape mixture into 1" balls. Place on wax paper-lined cookie sheet and chill in freezer about 1/2 an hour until firm.
Melt chocolate chips over hot water. (Or microwave on medium heat for 4 minutes. Stir to melt all chips.). Spear a peanut butter ball with a toothpick or dipping fork and dip into the chocolate to cover most of it. Place chocolate side down on a wax paper-lined cookie sheet. When all peanut butter balls have been dipped, press an unsalted peanut or peanut half into each one to resemble the Ohio buckeye nut.
Freeze again on a cookie sheet to set the chocolate; then store in a tightly covered container in the refrigerator.
Only makes five dozen—and gets your keyboard all sticky.
Oh, and there's a picture of My First Wife over on my Hats blog.