Our Texas Thanksgiving was all kinds of fun, frolic, plunder and police.
We left Pancakes Flats at 8:30 a.m. Wednesday with our cruise control on 79 mph. Exactly eight hours later we had driven 705 miles to Amarillo, TX. We were greeted by five grandkids and three frisky dogs. Our oldest daughter's family was already there.
Next day, Thanksgiving morning, our Son-In-Law came roaring out of his bedroom yelling, "What's Olga's phone number? My Tag Watch is gone! Her son took it, too! I'm getting the police involved this time!"
What S-I-L was referring to was a theft by the housekeeper's teen-aged son. He was helping his mom clean one afternoon about a week ago when he stole my S-I-L's expensive hunting knife. His mom threatened to squeeze his liver up into his throat if he didn't come home from school right now, confess and return the knife. Well, you know, most kids don't like liver, so he confessed and returned the knife. Then he got chewed out real good by a host of adults. It's finished.
Or is it?

"My Tag Watch is gone!" S-I-L called the police on Thanksgiving morning. An officer came over and stayed about an hour. I think he liked visiting there, what with the Macy's Day Parade on TV, good coffee for the asking, a turkey roasting in the oven, and lots of happy grandkids bounding about the house. But finally he left.

Pretty soon, he called back to say that Olga's son had confessed. He took the watch when he took the knife (and a turquoise necklace, to boot). Unfortunately, he was afraid his mother would squeeze his spleen up into his throat, too, so he tossed a $1,000 watch into a restroom sink at school. Then he went home.
Sadly, that teen-age boy now has to deal with Ju-Vee and has seriously jeopardized his opportunity to obtain American citizenship—or stay in this country; even if his mother and sister stay.
This is all quite sad because the housekeeper is a dependable, trusted friend who loves my daughter very much. Both the lady and my daughter are heartbroken over this whole mess.
But then the day ended beautifully with S-I-L's family joining the rest of us. When we gave thanks over our dinner, we also prayed for Olga and her son. Then suddenly, 17 of us wreaked havoc upon two roasted turkeys and a ham. Five pies were barely enough. Of course, if you live in North/East/West Texas, all TVs in the house must be tuned to the Dallas Cowboys Thanksgiving Day football game.
In the end, it was a warm and traditional Thanksgiving—uh, evening.
Friday morning, everyone woke up screaming for Granddaddy's pancakes. So we had pancakes with peanut butter and chocolate sauce and I'm cool, dudes and dudettes.
That Friday afternoon, My First Wife, My Daughters and Granddaughters all took me to the mall where I got to stand around in the ladies clothes department while they tried on all kinds of clothes. My First Wife found an exciting black cocktail dress. Exciting. I managed to slip away to buy a couple of Christmas presents. Over in the Food Court I practiced my people-watching skills with a tall cuppa coffee. One cowboy there came up to me and said, "Nice hat."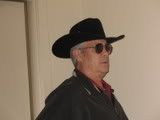 Friday evening we celebrated our Grandson's tenth birthday. His birthday is November 27, which was Thanksgiving Day the year he was born. We gave him some good books to read. But wait, I'm not done yet. We also celebrated My Oldest Daughter's birthday. Her birthday is November 30, so while we were all together… We gave her 40 one-dollar bills. Guess why. Lotsa cake and singing and pictures and family fellowship. Life is good.
On Saturday morning, my S-I-L was up and outside somewhat early. He came in and asked me if I had left my car door open. "Not on purpose," I said. I went out to look and discovered the driver's side door wide open. "Oh, no," I said, "the battery's probably run down. One of us must have left the door open." The car started right up, though. Inside with some snow were our CDs and tapes, water bottles and worthless papers scattered all about. Some jerk was looking for something of value. I've always said that if you steal anything out of my vehicle, you probably deserve it. No harm. No foul.
Oh, oh. Wait a minute. Where's the cell phone? Gone. Removed. Stolen. Fortunately, it's a prepaid phone with just a few dollars worth of time left. I called Virgin Mobile anyway and had it turned off.
What I can't figure out is just how desperate was that thief to take my worthless little phone? It was cold, cold, cold and snowing—yes, in Texas—in the middle of the night when that phone was taken. Why was he/she out looking for unlocked cars? Deep in a residential neighborhood? In snow flurries? At 20 degrees? In the wind? Just for a cheap bag of crack or for another swig from a fifth? Jesus, touch her/his heart.
Saturday morning all the Grandkids went to see the new movie, "Enchanted." That left My First Wife and me alone to do some secret stuff. Like buy Christmas presents. Which we did. After lunch we even had time to wrap them and set them out to wait for the Christmas tree.
For lunch, My First Wife and I had our traditional Whataburger. Yee-haw! I love Whataburgers! I insist on one every time we go to Texas. The only place to get them is in Texas. I used to live across the street from a Whataburger joint. If you've never had a Whataburger, you need to make a trip to Texas. Get one. Someday you'll thank me.
Our Oldest Daughter and her family left Saturday afternoon. The rest of us settled for a bunch of tacos for dinner. All by ourselves. We belched ourselves to sleep trying to watch the Kansas-Missouri football game.
My First Wife and I left Amarillo on Sunday morning. Clear skies. We had a delightful, restful Thanksgiving, with five grandkids and three frisky dogs all over us most of the time. Over all, a real nice Thanksgiving weekend.
On the way back home, we attended radio church. We also discovered our cruise control can top 80, so we drove back in just seven and a half hours, the last hour under a magnificent red Flint Hills sunset. Life is good in Amarillo. Life is good in Kansas. The Lord is real consistent with His blessings to us.