I'll probably never see another day like I saw today, a day you'll see only in America. I am proud to be an American.


The line stretched around the block.
Today, Monday, I went with my next door neighbors to the husband's American citizenship swearing-in. He's from Colombia. What a great and impressive experience! Today, Monday, June 9, the US received over 1,200 new citizens from 124 countries—from Albania to Zimbabwe. All in the Municipal Auditorium.


We had to be there at 9:00 a.m. We found out the ceremony was not until 11:00. Now I see why. Remember, there were 1,200 applicants. It took two hours to check their paperwork, give each one a new little American flag and get them all into their proper places. Oh yes, only in America.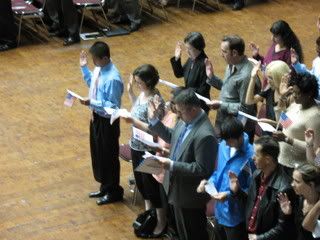 "I so hereby swear...United States of America...so help me God."
This is the first time I've been to one of these events. I can tell you it was quite a touching ceremony. It's not often you see that many people swearing allegiance to the United States. You get goose bumps and all teary-eyed. It makes everyone proud. It will occur in The Big City two more times this year. It made me wonder if any other country on earth will receive 1,200 new citizens this whole year? I doubt it. Only in America.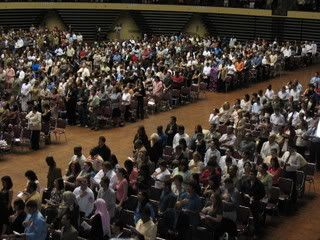 Twelve hundred brand new citizens repeating their first Pledge of Allegiance. It was enthusiastic, too.
One thing I particularly enjoyed was the roll call of nations. All 124 countries were called. When those good people heard their native nation called, they stood and proudly waved their new little American flags. Friends and family noisily cheered from the peanut gallery, just like at a college graduation. Mexico and Ireland got the longest and loudest cheers; Cuba, the warmest applause. Other interesting countries represented were Macedonia, Luxembourg, USSR (yes), Togo. It was a nice morning.

Gonzalo Arias and his proud, proud family. His first moments as an American Citizen.

I presented our neighbor with a stars and stripes necktie, which he wore. Afterward, we went to lunch. Hey, where else can a Colombian become an American and then celebrate in an Italian restaurant? Only in America.

God Bless America.