The Christmas wonder has passed, and our year end countdown resumes. And wonder of wonders, this simple post earned the number three most popular position. Thank you.

The Joy of One Million, Two Million... (July 13)

About the middle of June, I took my One Millionth Step this year. I like to walk, and I keep a daily tally of my steps. I'm lusting for two million steps in '07, but weather, health, and unforeseen commitments might get involved. We'll see; stay tuned.
After we bought our new camera, I took a picture of a typical step while I walked along with my walking buddy, My Shadow.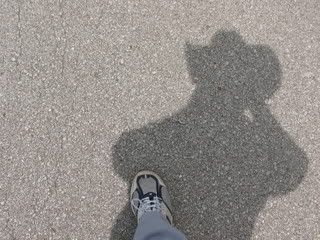 UPDATE:

The year is almost over. I have walked

2,496,754 steps

(1107 miles). Do you think I should step it up next year and go for 1500 miles?