I walk a lot. A lot! Rain or shine! Almost every lunch hour I walk. This fresh "cool" weather that swooped in recently has really made walking a pleasure. And around here, the midday sky is all gussied up with fluffy, cottony clouds floating around kind of lazy like. Summer must be done.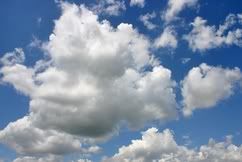 During yesterday's lunch I went to a nearby neighborhood park for my walk. Ah, what a day! Low 80s, the grass green again, a playful breeze, gentle clouds, squealing little kids on the swings, walking beside a nice pond, the song of popping tennis rackets—and one of my favorites songs rolling around in my head: It Is Well With My Soul.

Well, with all those ingredients, there wasn't much left to do but raise my hands, look heavenward, smile and say, "This is cool, Lord."

And yesterday, when I lifted my hands and looked up, I saw a large person-shaped cloud hovering above and in front of me. The head and body were distinct; dressed in a flowing white garment. Both arms were raised, just like mine.

I'm convinced it was put there for me to find. All is well. Thank you, Lord.