Well, April 15 to 17 has passed this year. I suppose all My Faithful Readers (both of you) are relieved. You know, conked out on the bed, breathing easily till the next time a kid hollers, "Mom, Little Brother did something…"
My Faithful Readers are thinking,
"Whew, tax season is finally over."

"Did I put a stamp on that envelope?"

"I did put it in the right mailbox, didn't I?"

"Did I deduct those Christmas and Easter offerings at Gramma Edna's Church?"

"Did I sign it? I don't remember signing it. And what about my wife/husband? Oh, no! He/she would forget his/her head if it wasn't attached/connected."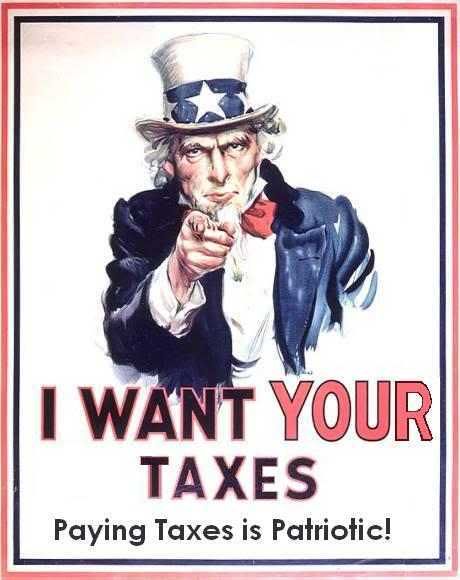 Well, to relieve all your anxiety (you're being anxious for nothing) here's a little list of what you helped pay for this year. A hundred years ago our grandparents never paid for any of this stuff. I'm anxious to know how they got by?
Accounts Receivable Tax

Building Permit Tax

CDL license Tax

Cigarette Tax

Corporate Income Tax

Drivers' License Tax

Dog License Tax

Federal Income Tax

Federal Unemployment Tax (FUTA)

Fishing License Tax

Food License Tax

Fuel permit tax

Gasoline Tax (42+ cents per gallon)

Hunting License Tax

Inheritance Tax

Interest expense

Inventory tax

IRS Interest Charges

IRS Penalties (tax on top of tax)

Liquor Tax

Luxury Taxes

Marriage License Tax

Medicare Tax

Property Tax

Real Estate Tax

Service charge taxes

Social Security Tax

Recreational Vehicle Tax

Road usage taxes

Sales Tax

School Tax

State Income Tax

State Unemployment Tax (SUTA)

Telephone Federal Excise Tax

Telephone Federal Universal Service Fee Tax

Telephone Federal, State And Local Surcharge Taxes

Telephone Minimum Usage Surcharge Tax

Telephone Recurring And Non-Recurring Charges Tax

Telephone

State

And Local Tax

Telephone Usage Charge Tax

Tobacco tax (other than cigarettes)

Utility Taxes

Vehicle License Registration Tax

Vehicle Sales Tax

Watercraft registration Tax

Well Permit Tax

Workers Compensation Tax



Has anyone noticed that not one of these taxes existed 100 years ago? Our nation was the most prosperous in the world. We had no national debt. We had the largest middle class, and most moms stayed home to raise the kids.